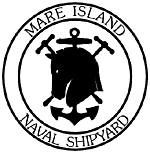 SOMETHING IN THE WATER: The Mare Island Mystique
By Fred Tannenbaum
"… the killer fish are spawned that will eat at the vitals of Japan…"
--Leonard Graves, Victory at Sea, "Full Fathom Five."
Northern California's Napa River is better known to most Americans as running through a valley of the same name producing some of the world's finest wines. But more than 60 years ago, the brackish river baptized several U.S. Navy submarines that helped secure victory during World War II.
Mare Island Navy Yard, later Naval Shipyard, built some of the war's most famous submarines, including the mighty Wahoo (SS-238) and probably refitted all, if not most, of the rest.
Mare Island also built almost the smallest number of submarines before and during World War II, yet a high percentage of these boats ranked highly. Those that slid into the Napa during the war included eight Gato-class and eight Balao-class, compared to 70 built by Portsmouth, N.H., Navy Yard, the 74 at Electric Boat Co.'s massive yards in Groton, Conn., and even Manitowoc Shipbuilding in Wisconsin, which built 28 boats. Before the war, Mare Island also built a Porpoise-class boat, two Salmon-class, a Tambor-class boat and a Gar-class boat.
Much of Mare Island's effort was focused on submarine overhauls, keeping them updated, and sometimes swiftly returning them to service after being wounded in combat.
Mare Island actually was built on a peninsula where the Napa joins the Sacramento River to empty into San Pablo Bay, about 25 miles north of San Francisco. It was one of the Navy's oldest Pacific coast shipyards until it closed in the early 1990s. It was founded in 1854 by Admiral David Glasgow Farragut, who later gained fame as the hero of the battle of Mobile Bay during the Civil War.
The shipyard originally was the first base of the U.S. Pacific Fleet, which consisted of only 12 ships. The yard later grew into one of the most important West Coast shipyards during World War II, even repairing some of the destroyers nearly destroyed in the 7 Dec. 1941 attack on Pearl Harbor.
Among Mare Island-built submarines built before World War II were the Nautilus (SS-168), Pompano (SS-181), Sturgeon (SS-187), Swordfish (SS-193), Tuna (SS-203) and Gudgeon (SS-211). All saw extremely tough service, and were among the first U.S. warships taking the fight to the Japanese early in the war. On 27 Jan. 1942, Gudgeon sank the Japanese submarine I-173, the first enemy warship sunk by an American submarine.
As the nation ramped up to prepare for war in the late 1930s and early 1940s, the shipyard built a trio with a bloodline unmatched in submarine history. A Navy request to increase the fleet by 11 percent increase, including alotting 21,000 tons for submarines, was approved by Congress on 14 June 1940. Included was an order to Mare Island for four Gato (SS-212)-class submarines including Silversides (SS-236), Trigger (SS-237) and Wahoo (SS-238).
While the postwar Joint Army-Navy Assessment Committee (JANAC), are somewhat controversial, they give a good performance barometer. The three submarines sank a total of 61 ships (Silversides, 23; Trigger, 18; and Wahoo, 20) totalling 236,670 tons of shipping destroyed (Silversides, 90,080; Trigger, 86,552; and Wahoo, 60,038). The fourth submarine in the order, Whale (SS-239), sank nine ships totaling 57,716 tons.
During the war, the yard built other successful siblings, including Sunfish (SS-281), Tunny (SS-282), Tinosa (SS-284), sisters Seahorse (SS-304), Tang (SS-306), and sisters Spadefish (SS-411) and Trepang (SS-412).
Fortune smiled on all of those submarines as well. In fact, eight of the top 25 submarines by number of ships sunk according to JANAC were built at Mare Island, while boats built there accounted for nine of the top 25 by tonnage of ships sunk.
The price paid was high. Pompano, Swordfish, Gudgeon, Trigger, Tulibee and of course, Wahoo and Tang, were among submarines that never came home. Mare Island's athletic field near the submarine barracks was named "Morton Field" as a memorial to Mush.
Mare Island also built submarine tenders that did yeoman's service to the Submarine Force during and after the war: Fulton, Sperry, Bushnell, Howard W. Gilmore and Nereus.
There is no evidence that this clustering of success was the result of anything but coincidence. Mare Island boats were highly regarded by the fleet, especially those boats also fitted with the rugged Fairbanks-Morse diesel engines.
But once the boat passed through Carquinez Strait and out the Golden Gate, it was on its own.
Surely, the Navy's Bureau of Personnel didn't hoard its best men and give them orders to Mare Island boats. That would be unfair to staffing boats at other yards, which also built fine boats. Many boats built elsewhere also racked up impressive records.
One theory held by Darryl Baker, who spent 29+ years at Mare Island, ultimately working his way up to a branch head in the Workload Forecasting Branch (6 Years), was that the average mechanic at Mare Island "always wanted to do the best work possible. This was not only true during WWII but also during my days on the waterfront. Also, mechanics at the time (WWII) were able to made decisions on the deck plates without an engineer approving every nut, bolt and wire hookup."
Baker also thinks, that in addition to the yard building sound submarines, since it was the main major repair base for Pacific submarines, the yard received a lot of feedback from the returning ship's commanding officers and crew concerning the problems they had under real war condition. "I am sure that this information helped to produce a better fighting ship after Mare Island repair and modification," says Baker.
Silversides, the last surviving Mare Island submarine from World War II and the last survivor of the brotherhood that included Trigger and Wahoo, can be visited in Muskegon, Michigan during warmer months.
Maybe fate, fortune and God just were looking out for the Mare Island boats.
For more Mare Island information, visit: http://www.fas.org/man/company/shipyard/mare_island.htm
And
http://www.militarymuseum.org/SubMareIsland.html
Fred Tannenbaum is a journalist living in North Carolina. He is an
independent Silversides historian who has researched that submarine since 1979. He can be reached at ft236@hotmail.com.