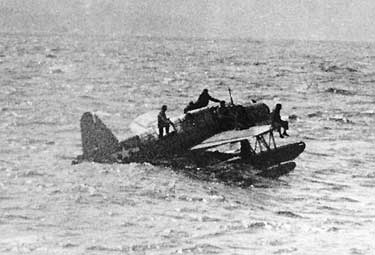 May 1, 1944 - Vought OS2U "Kingfisher" floatplane from USS North Carolina (BB-55), piloted by Lt.(jg) John A. Burns, floats off Truk with nine aviators on board. The plane landed inside Truk lagoon to recover the downed airmen. Unable to take off with the load, it then taxiied out to Tang, which was serving as a lifeguard submarine during the 29 April -1 May carrier strikes.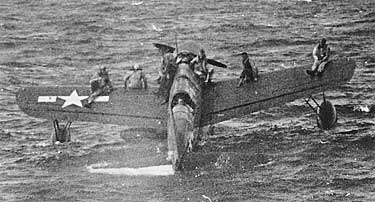 The Kingfisher wallows under her load as Tang maneuvers alongside. The pilots are spread out along the wing to balance the plane.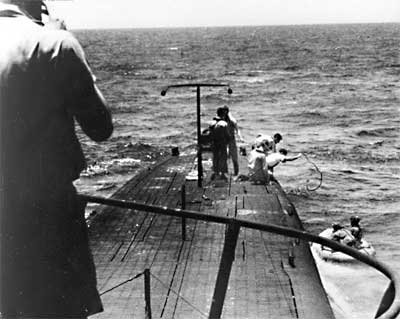 A line is tossed to airmen in a raft from the Kingfisher.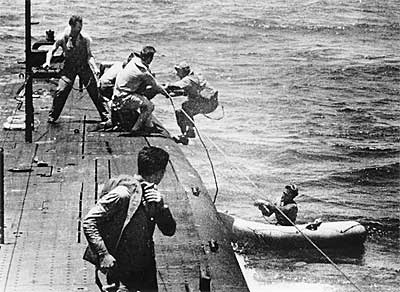 Fliers scramble aboard as they transfer to Tang.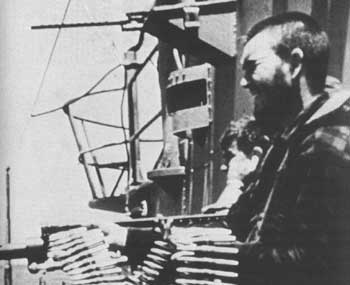 In order to prevent the plane from falling into enemy hands, O'Kane orders the deck guns to open fire on the Kingfisher and sink it.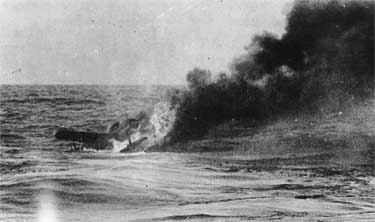 Burning fiercely, the Kingfisher is left astern as Tang withdraws to safer waters.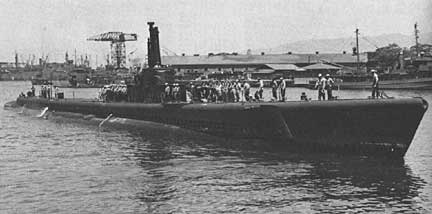 May 15, 1944 - Tang returns to Pearl Harbor with her load of zoomies.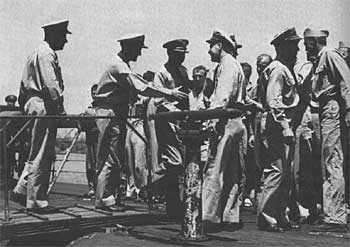 May 15, 1944 - O'Kane greets the brass, including Admirals Lockwood and Nimitz, as they come aboard to congratulate him on the rescue. Though praised for his performance, it was clear to those close to him that O'Kane would have preferred to return with additional sinkings as well.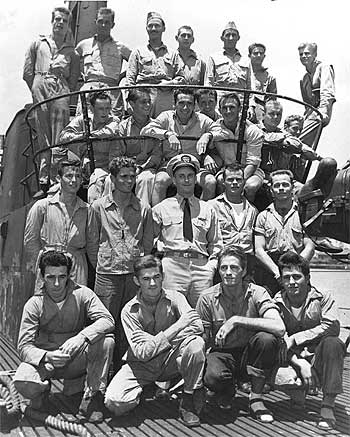 May 15, 1944 - Captain O'Kane poses with the twenty-two rescued aircrewmen.They are (front row, l - r): H.B. Gemmell; J. Hranek; J.L. Livingston; J.D. Gendron; (second row, l-r): R.W. Gruebel; R.E. Hill; O'Kane; H.A. Thompson; A.J. Gill; (third row, l-r): C.L. Farrell; J.G. Cole; J.J. Dowdle, Jr.; J.A. Burns; R.T. Barbor; H.E. Hill; S. Scammell II; (top row, l-r): O.F. Taburn; R.F. Kanze; D. Kirkpatrick, Jr.; J.J. Lenahan; A.R. Matter; R.L. Bentley; R.S. Nelson.This photo, and stories of the record setting rescue, made headlines across the country.